UIC COVID-19 Tracking: Academic Year 2021-2022
Tracking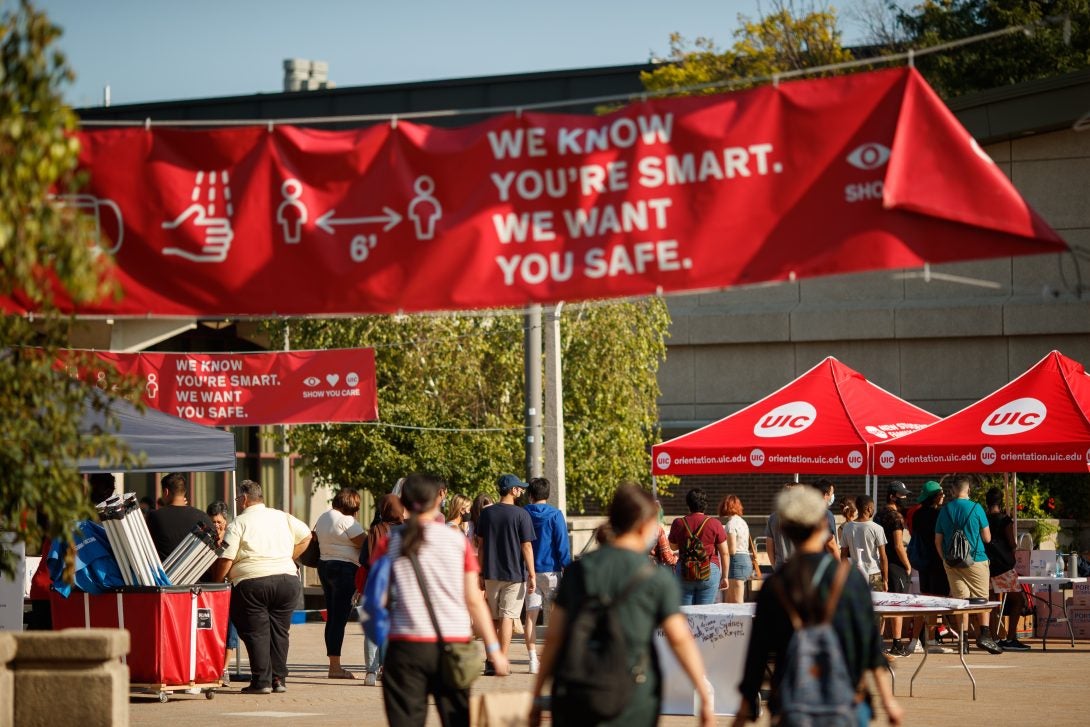 Efficient and reliable testing is an important part of the university's risk mitigation strategy. COVID-19 cases reported on this dashboard are updated M/W/F on business days, and reflect positive test results from day of test.
Aligned with guidance from the Centers for Disease Control and Prevention (CDC), individuals who have tested positive must follow all campus protocols established for isolation at home or in campus housing as appropriate, and those  who have been exposed must follow all campus protocols established for quarantine. In accordance with privacy laws, UIC does not disclose personally identifying information to the public about individuals who test positive.
UIC believes everyone in the community deserves equal access to public health information and is committed to creating an inclusive digital experience. If you are experiencing challenges accessing the information, please contact the Disability Resource Center for more options.
To view archived data prior to 08/15/2021, please visit the UIC COVID-19 Tracking: Academic Year 2020-2021 Dashboard.
UIC COVID-19 Updates
October 04, 2021 Update
Over the past month, UIC's COVID-19 Contact Tracing and Epidemiology Program has worked closely with faculty, staff, and students to adapt our policies to the changing landscape of COVID-19, and to ensure that our campus remains one of the safest places in Chicago.
We are extremely heartened by the current trends on our campus dashboard:
Vaccination is over 95% across the entire campus
UIC's total cases and test positivity are down from where they were when campus re-opened in August, and our team continues to reach cases and contacts in less than 24 hours from the time they are reported to us.
The City of Chicago's dashboard is also reassuring, with cases and test positivity down and hospitalizations also on the decline.
In addition to these reassuring trends, we want to remind campus that UIC is a highly vaccinated population relative to its surrounding community. In Chicago, around 60% of residents are fully vaccinated, and in Illinois the figure is approximately 55%. Moreover, thanks to UIC's stellar adherence to universal indoor masking, we have a second shield around our campus that may not be as strong in our surrounding communities. Due to these community realities, it's important to exercise caution:
Wear a mask when indoors in public spaces, and also in crowded outdoor venues. This really applies to any situation where you are with individuals whose vaccination status you are uncertain of.
Practice physical distancing whenever possible, especially when around individuals whose vaccination status you are uncertain of.
Practice good hand and respiratory hygiene.
Stay home if you or a household member are experiencing symptoms of COVID-19, no matter how mild and regardless of your vaccination status.
Report symptoms, positive tests performed outside of UIC, and exposures to UIC Contact Tracing. The COVID-19 reporting decision tool will direct you to the proper place to report each based on your answers to a few simple questions.
The data show that we have come a long way, but it is still important to maintain these prevention practices so that we can continue enjoying the return to in-person activity. This is particularly important as we prepare for Halloween activities. Last year, UIC experienced the sharpest peak in cases during the 2 weeks following Halloween activities, reaching up to 28 new cases per day among campus students and staff. Please keep this guidance in mind as you make social plans! And since you have to take your mask off to eat and drink, go light on the treats when you're with others in indoor spaces!